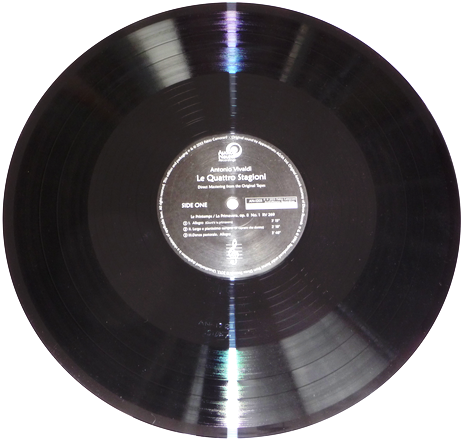 Le Quattro Stagioni

45 RPM
HQ-180gr -- 2 LP

Half-Speed Mastered by Stan Ricker (SRM)
Pressed at Pallas (Germany)
500 numbered copies
Publication: May 17, 2013
AN-1201

IT WILL TAKE CARTRIDGES AND ARMS WITH THE MOST ACCURATE ANTI-SKATE SETTINGS TO PLAY THIS REALLY WELL

Michael Fremer (analogplanet.com):
<< the reason Mr. Camorani chose to reissue this particular recording is because of both the fluidity and depth of the performances and its superb sonics aided by the church's wonderful acoustics.>>
<< Here you have natural, reflective acoustics. Close your eyes and it is church-like, though utmost clarity and inner detail is well-maintained.>>
<< Still, the balance between the instruments and the reverberant venue is nearly ideal. Just don't turn the volume up to unnaturally high SPLs. You're not sitting in the front row.>>


MUSIC

SOUND
CUSTOMERS comments:

< Technically this production is flawless. The LPs are flat, low noise and no defects.>
< Great graphics with excellent pressing. >
< If I compare this 45rpm vs the 33rpm Cisco version, the difference is huge, tremendous and "merciless": this 45rpm is amazing!>
< Comparing the two formats face-to-face (45rpm vs original Divox CD) I was asking myself if I am hearing result of the same recording. No, it is not that the CD is badly done. In fact it is one of my "better" CDs. It is only that the presentation is totally different. The sound is much more "shiny" on the CD whereas it is much more "earthy" on the LP. The LP sounds much more like a real orchestra and I can locate spacially the individual instruments much better than on the CD.>
< Very nice re issue at that, the sound and the effects are great just like the original one.>

Stan Ricker (www.rickermaster.com):
<< I JUST CUT AN ENTIRE C-SIDE, [AUTUMN] AND IMMEDIATELY PLAYED IT BACK [AT REAL TIME, OF COURSE], AND THE RESULTS WERE ASTOUNDING .>>

<< I SEE/HEAR WHY FOLKS LIKE THIS RECORDING. I CAN HEAR THE INNER VOICES REALLY WELL, AND THEY ARE REALLY PLAYING THEIR PARTS, NOT JUST FAKING IT ON THE REALLY TOUGH WRITING.......>>

<< JUST AMAZINGLY QUIET, ALL 4 SIDES! AND THE MUSIC JUMPS OUT AT ME SO POWERFUL THE QUIETNESS IS JUST SCARY, AND THE MUSIC IS SCARY-GOOD.>>

This was the first title I decided to re-issue when I thought I could do it better. But it was the second LP, published in 2012, of ANR.
This is because it took a very long time to convince Wolfram Burgert. I remember well the time we spent at the phone and when we first met in Munich. Meanwhile, Divox gave the right to press the LP version to Cisco Records. Time passed by and at last I got the agreement. And Silk Road too... Silk Road cut a 33rpm at Pauler in DMM, I asked Stan Ricker to cut it in 45rpm in Half Speed.
Please compare the results yourself.

F. Camorani